The 23rd Annual Ted Weclew Memorial Lecture
Predictable Implant Esthetics
Paresh Shah, M.S. D.M.D.
An IL AGD Member Benefit Course
Wednesday, February 24, 2016
Course Description
Implants are without question a vital treatment option for replacement of missing teeth. Successful implant treatment can be challenging for many clinicians in order to achieve predictable results. Implant, abutment and final restoration selection all play a vital role to the success of the treatment. This lecture will allow participants to learn how to plan and implement successful implant esthetics. We will cover implant planning from diagnosis to implant selection and placement. Proper impressioning techniques, lab communication, abutment selection, provisionalization, tissue management and prosthetic design will be reviewed. Learn techniques that will be easy to implement Monday morning.
Speaker Biography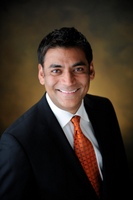 Dr. Paresh Shah maintains a private practice in Winnipeg, Canada with a focus on implant, cosmetic and
interdisciplinary care. He graduated from the University of Manitoba in 1991. Dr. Shah received a Masters in Physiology in 1987 (U of Manitoba) and has a Proficiency Certificate in Esthetic Dentistry from the University of Buffalo (SUNY) in 2007. He has served as a clinical mentor in the Post Grad Program for Esthetic Dentistry at the University of Minnesota and a part time instructor at the University of Manitoba Faculty of Dentistry. He has taken well over 1800 hours of advanced education in esthetics, materials, implants, occlusion and interdisciplinary care. He also serves as a consultant for numerous dental manufacturers in product development and evaluations and is a member of the Catapult Group speaker's bureau. He is the co-director of a Seattle Study Club in Winnipeg, section editor for Esthetics with the CARDP Journal and Spectrum Journal and has fellowships in numerous organizations including the ICOI and AGD. He lectures internationally on esthetics, implants, interdisciplinary care and staging complex restorative cases in general practice.
Course Objectives
∙ Learn proper techniques on implant selection, planning and placement to achieve optimal esthetics.
∙ Learn how to select appropriate implant abutments and prosthetic components to create successful esthetic results.
∙ Learn how final prosthetic design and materials can influence your results and lab communication.
∙ Learn how to communicate implant position and tissue contour to the lab for proper emergence profile.
∙ Learn various provisional and impression techniques to assure esthetic and functional success.
∙ Review material selection for various clinical situations.
Course Credit:
Approved for 6 hours of AGD Lecture credit.
Location & Time
American Dental Association Auditorium
211 E. Chicago Avenue
Chicago, IL 60611
The Day before the CDS Midwinter Meeting
An IL AGD Member Benefit Course
Registration: 7:30 am
Lecture: 8:00am-3:00 pm
Continental Breakfast and Lunch will be served.
Seminar Fees:
AGD DUES PAID DENTIST                    $95                                                     $115 AT THE DOOR
NON-AGD DENTIST                               $245                                                    $265 AT THE DOOR
HYGIENIST                                              $75                                                      $95 AT THE DOOR
DENTAL STAFF                                       $75                                                     $95 AT THE DOOR
DENTAL STUDENTS & RESIDENTS     $20 Pre-Registration Required    $40 AT THE DOOR
IL AGD PAST PRESIDENTS                  $0 Please Pre-Register
No refunds after February 17, 2016
---
For questions contact:
Jaime Petras, IL AGD Executive Secretary at [email protected] or
Dr. Cheryl Mora, IL AGD CE Chair at [email protected] or 847-638-7223 (cell)
---
AGD dues paid status will be checked as of Feb. 18, 2016.  Any Non AGD dentist may choose to apply his entire
registration fee to his first year AGD dues by submitting a completed AGD application on site. Ask for Dr. Cheryl Mora
or Maureen Kugel for help in completing this process.
Acknowledgements:
Presenting a program of this nature is a group effort and would not be possible without the assistance of many
individuals and/ or companies. A complete list will be available at the course site.
---
---
Save the Date:
February 22, 2017
Offensive Dentistry
Dr. Brian Novy, DDS