The Illinois Academy of General Dentistry, in conjunction with the Wisconsin Academy of General Dentistry, is pleased to present this program leading to Mastership certification in the Academy.
Modern Oral Medicine
for Today's General Oral Practitioner
Presented by
John Olsen, DDS, MAGD, DICOI
Summary:
Date: October 29-30, 2021
Time: 8am-5pm
Location: GC America 
Speaker: Dr. John Olsen
CE Credits: 16 CE Lecture Credits
Tuition:
Pre-Master Dentist $945.00
MAGD Dentist $845.00
Non-AGD Dentist $1045.00
Speaker: Dr. John Olsen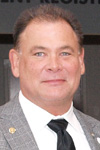 Dr. Olsen was on the faculty of MUSOD in Anatomical Sciences and was a previous course director for General/Oral Pathology at MATC for over 20 years collectively. He is a general dentist who practices in Franklin, WI. He has been lecturing professionally for many years.
As a member of the Academy of General Dentistry (AGD) Dr. Olsen achieved his Fellow in the AGD in 1997, his Master in the AGD in 2000, and his Lifelong Learning Award in 2016.  He a Diplomat of the International Congress of Oral Implantology.
Dr. Olsen's positions in the AGD's leadership were several, from WIAGD president to Regional Director then Trustee and he finished his leadership role as a candidate for the 2021 president elect.
Spurred on by his quest to educate the dental profession on recognizing and referring signs of oral cancer, pharmacology, and implant dentistry, he has been lecturing on these subjects since dental school. Dr. Olsen has lectured at many meetings throughout the world on the topics of Diagnosing Oral Cancer, Oral Medicine and Dental Implant Sciences. He have also contributed as an author for publications in Implant Dentistry.
Course Description:
This 2-day course will have a specific goal: to teach today's general practitioner disciplines in oral medicine. The focus will be on recognizing different pathological syndromes and how to curatively treat them. Included will be a summary of specific oral medications used in dentistry for pain management, infection control and growth factors in healing. This course will not only train the attendee what different medications do and how they are used, but will also demonstrate these concepts with a hands-on approach.
Course Objectives:
The lecture portion of the course will focus on:
1. The use and fundamentals of medications used in pain control
2. The use of medications to control infections of the oral cavity
3. How medications are used in dentistry as a base for treatment diagnosis in pathology
4. Medications that specifically control and/or help cure common pathological syndromes
5. How to use Botox to help a patient with certain pathological syndromes that plague dentistry and cosmetics
6. How harvesting a patient's own blood for blood based biologics can make a treatment plan successful
7. How growth factors help build better results in bone grafting
The hands-on portion of the course will focus on:
1. Demonstrating on each other different injection techniques used for pain control in dentistry
2. Making treatment medication and appliances for immune-based pathological syndromes
3. How to combine antibiotics and biologics in bone grafting techniques
4. How to draw blood from a patient and harvest it for a patient-borne biologics
5. How to inject Botox medium on each other for common dental problems
Supplies to bring: Gloves, Loupes, scalpel blade handles and blades, scissors, hemostats, tissue forceps, masks, amalgam
pluggers, sutures (the cheapest you can find), Syringes with short and long gauge needles.
Who Should Attend?
These hands-on programs were designed originally for AGD Fellows striving to be AGD Masters. We have discovered that these programs can be valuable to all dentists from new graduates to the most experienced clinicians.
CE Credit:
16 hours of participation credit for those who attend the 2 days of lecture and hands-on. 34 total hours of participation credit to those who attend the 2 days of lecture and hands-on, complete the assigned protocol in their office, and return to document the protocol assignment. Many of our programs allow the Course Director to award CE credits in a number of different subject codes. For further information please consult Dr. Cheryl Mora.
When:
Friday & Saturday, October 29-30, 2021
8:00AM – 12:00PM Lecture and/or Hands on
12:00PM – 1:00PM Lunch
1:00PM – 5:00PM Lecture and/or Hands-on
Program Site:
GC America
3737 West 127th Street
Alsip, IL 60803
708-597-3090
Lodging:
DoubleTree by Hilton Hotel Chicago-Alsip
Address: 5000 W 127th St, Alsip, IL 60803
Phone: 800-222-8733
Rate: $121 + Tax
Shuttle from Midway Airport to the Hotel; 10miles approximately 30 minutes.
Free Parking
Reservations can be made online at www.ChicagoAlsip.DoubleTree.com, or by calling 800-222-8733, and referencing AG2 to obtain the discounted rate of $121 plus tax per room per night. Guests must make reservations by October 14, 2021
If guest will be making the reservation after the cutoff date for each block indicated above, then they must click on this link and the corporate code of 0560081829 should automatically populate the discounted rate assuming the hotel has rooms available to book.
**Dr.  Mora has arranged a Shuttle for the doctors from the Hotel to GC America at 7:15 am Friday and 7:30 am Saturday. A shuttle can be arranged to take people back to the hotel as well with notice. GC America is 1.7 miles and approximately 8 minutes from the DoubleTree Hotel.
Note: Any reservation changes or cancellations must be 48 hours prior to check in or the credit card on file will be charged one nights room fee plus tax.
Course Fees:
Pre-Master Dentist $945.00
MAGD Dentist $845.00
Non-AGD Dentist $1045.00
Meals:


Tuition includes a continental breakfast and lunch each day and a Friday night banquet, the
Dr. Daniel Beer Memorial Bash.

Friday night dinner is at Zachary's Grill
Located in: Westgate Valley Commons
Address: 13415 S Ridgeland Ave, Palos Heights, IL 60463
Time: 5:30pm

A shuttle can be arranged to Zachary's Grill if needed with notice.
Protocols
Protocols will be Thursday evening the night before each course at 5:00pm in the Board room at the DoubleTree or an equivalent room. We have dinner reservations for 7:30pm at the hotel restaurant, Allgauers Restaurant.  Please RSVP to Dr. Cheryl Mora by October 21, 2021 to present protocol reports.  Please contact Dr. Mora to participate via Zoom.
---
NEW DENTISTS!!!
Three (3) full Scholarships will be made available at each program to AGD member dentists who have graduated less than 3 years ago!
For Further Information Contact Dr. Sy Wachtenheim:
Phone: 847-858-1927, Fax: 847-905-7271,
or email: [email protected]
For optimum response to your phone call, please identify your call as regarding AGD.
Many of our programs allow the Course Director to award CE credits in a number of
different subject codes. For further information please consult Dr. Sy Wachtenheim.