THE ART OF COMPLETE DENTISTRY: FUNCTIONAL OCCLUSION AND PREDICTABLE
AESTHETICS"– Season Pass #4
Summary:
Date: Friday, May 12, 2023
Time: 8am – 4pm (including lunch hour)
Location: Maggiano's Restaurant @ Oak Brook, IL
Speaker: Neeraj Khanna, B.Sc., D.D.S.
CE Credits: 7 CE Lecture Credits
Tuition: (Breakfast and Lunch Included)
AGD Dentist: $150
Non-AGD Dentist: $225
Hygienist or staff (AGD Dentist): $65
Hygienist or staff (Non-AGD Dentist): $85
Student/Resident: $20
All 4 Programs – Season Pass AG members ONLY $500
Speaker's Bio: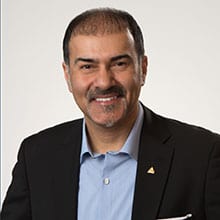 Dr. Khanna grew up in Toronto, Canada where he attended the University of Toronto and completed his Bachelor of Science degree (1989). He then continued post graduate school at the University Of Detroit Mercy- School Of Dentistry and earned is D.D.S. degree (1993). Dr. Khanna then completed a General Practice Residency at the University of Rochester-Strong Memorial Hospital in Rochester, New York (1994). After being an associate dentist for several years,
Dr. Khanna opened his practice (March 2000) in beautiful downtown Geneva, Illinois. Dr. Khanna has completed training at the prestigious DAWSON ACADEMY (St. Petersburg, FL). He has been faculty with the Dawson Academy since 2010. He is currently a Senior Faculty and continues to teach the full core curriculum at
the Dawson Academy. His training at the Dawson Academy has inspired him to dedicate his practice to excellence in comprehensive restorative and aesthetic dentistry. Dr. Khanna's philosophy involves treating every patient in the four aspects of complete dentistry. This includes achieving harmony between jaw joints, muscles, supporting tissues, and teeth. His passion for complete dentistry has opened opportunities to share his knowledge. Dr. Khanna has lectured in many countries including the United States, U.A.E, India, Kazakhstan, Philippines, Poland, Thailand, and the Republic of Armenia. Finally in 2020, Dr. Khanna has had the honor and privilege of writing his first textbook titled, "Functional Aesthetic Dentistry. How to Achieve Predictable Aesthetic Results Using Principles of a Stable Occlusion.
Course Objectives:
An anonymous person once said that "It's beauty that captures your attention; personality which captures your heart." In complete dentistry, however, it is "functionality" that truly captures the heart of the practitioner. Undoubtedly, there is nothing more beautiful and essential than to have crafted teeth that appear natural and function perfectly. Ironically, however, this marriage of form and functionality is the most overlooked aspect of clinical dentistry. The fundamentals of occlusion are directly related to function. In other words, form does follow function. The
understanding of how the masticatory system functions in relation to the dentition allows the dentist to provide treatment that is not only predictable, but natural, and long lasting. One of the goals of a perfected occlusion is to have equal intensity contacts on all teeth while the joints (TMJ) are seated in centric relation. In addition, the anterior teeth also play an important role in establishing correct occlusion and the envelope of function. When anterior teeth are restored, the patient's envelope of function must be correctly restored to achieve natural
movements of the mandible. Predictable dentistry involves creating acceptable, natural, and long lasting restorations. These restorations must exceed our patient's expectation and more importantly, our own. The lecture will provide information with illustrations on how functional occlusion allows dentists to practice and deliver aesthetic results that are predictable. The very goal of using these principles is to have consistent predictable results, thereby making the practice of dentistry less stressful and more rewarding.
LEARNING OBJECTIVES:
➢ Understand the principles of occlusion
➢ Learn the connection between occlusion and predictable aesthetic dentistry
➢ Learn how to practice predictable esthetic dentistry
➢ Learn how to gather information relating to occlusion during an examinations
➢ Understand the "Envelope of Function", and how it relates to occlusion
➢ Understand the four points of complete dentistry
➢ Learn the proper techniques of taking photos
➢ Learn which photos are important to take
➢ Learn what to look for when reviewing photos
➢ Learn and understand the need to have diagnostic records
➢ Learn to use the photos and records to treatment plan in 2-D & 3-D
➢ Learn effective communication with patients, specialist, and lab
This lecture is very suitable for Dentists, Hygienists, and auxiliary team members.
Registration
Scroll to the bottom to register for this course only.
Sponsored By
---