Illinois AGD e-Advisor 2014 Fall Edition
Why AGD?
By Dr. Cheryl Mora
President, ILAGD
Illinois AGD had the pleasure of welcoming the UIC COD Dental Class of 2018 at a luncheon on August 14, 2014. Drs. Cheryl Mora, President and Dr. Larry Williams, President-Elect of IL AGD introduced the students to AGD with a presentation entitled, "What Can AGD Do For Me?" Drs. Mora &. Williams along with ILAGD Board members Drs. Marsha Babka, Spencer Bloom and Carol Everett explained the importance of being involved in organized dentistry by answering the following questions:
Do you wonder if you will learn everything in dental school that you will need to know to practice dentistry? The AGD recognizes that learning doesn't stop once a student is finished with dental school. Since continuing education is such an important part of our members' careers, we want our student members to learn the value of lifelong learning early on. Experienced dentists know that our profession is ever-changing and that keeping current is vitally important to our dental practices. That is why AGD offers students the opportunity to earn up to 50 hours of CE lecture credit while they are still in school and apply that credit toward the prestigious AGD Fellowship (FAGD) Award after graduation. Students can also attend the AGD Annual Meeting & Exhibits for free and many of the local Illinois CE courses are offered to students at a discounted rate or for free.  Members can also take advantage of Self-Instruction exercises in our peer reviewed journal-General Dentistry and participate in Webinars at AGD.org. Lunch & Learn programs and after school CE events are offered to the students at the three dental schools in Illinois as well. Go to ILAGD.org  for a list of courses in Illinois and AGD.org  for online programs and for more information on the Annual & Exhibits meeting that will be in San Francisco, June 18-21, 2015.
Do you want to know how to find an associate position or how to build or buy a practice after graduation? The AGD offers Career Assistance to students, new graduates and dentists. Members can browse the AGD Career Center to check out available jobs, to seek advice from fellow AGD members on what career path may be right for them and to find out more about AEGD and GPR programs. Plus, the AGD Student Transition manual, available online, outlines everything a new dentist needs to know about transitioning from a dental student to a working dental services provider, including how to set up and manage a dental practice. Often the best career assistance comes from your colleagues. The networking opportunities at AGD will assist your endeavors throughout your career.
Do you want to be "in the know" about legislation and state board actions effecting dentistry?  As the general dentist's advocate, the AGD monitors important issues, on both the local and national levels, that may affect the way general dentists practice and sends out action alerts to keep members informed. AGD is the voice of the general dentist, advocating on behalf of its members at our annual Government Relations Conference in Washington, D.C. and in Springfield at our state capitol. The AGD also acts on the general dentist's behalf within organized dentistry, protecting their interests and collaborating to strengthen their voice within other dental organizations.
Do you want to know how to distinguish yourself among your peers? The AGD recognizes those dentists who are committed, through continuing education, to improving the quality of the dental care they provide to their patients. Become a Fellow in the AGD by earning 500 hours of CE, taking a comprehensive examination and being a member of AGD for three continuous years.  General Dentist members may then earn the designation of "Master" of the AGD by completing a structured and demanding set of requirements that include an additional 600 hours of continuing education, 400 hours of which must be participatory in nature. The AGD also offers many opportunities for Leadership Development at both the local and national levels. The skills learned, as a leader in organized dentistry, will help you excel in your professional relationships with your patients, staff and colleagues.
These are just some of the reasons why our members value AGD and what the organization does for their careers and their patients. Go to ILAGD.org and AGD.org and also to Facebook to find out more ways AGD will make you a more successful dental student and help you in your journey towards graduation and starting your dental career.
Cheryl
President, IL AGD
Council Chair, Membership Council
---
Dental Management Decisions For the Dental Student
While graduating dental school is an important milestone in the career of every dentist, it also represents a critical transition period when every dentist must make decisions that will greatly impact their professional and financial futures.  The following is a summary of the key points that were presented by a panel of industry leaders at a recent seminar of the Illinois Academy of General Dentistry featuring a dental lender, accountant and attorney. The article is not an exhaustive list of items to be considered and should not be relied upon as a substitute for obtaining individualized advice, but these summaries do present a valuable starting point when considering various career options after graduation.
Summary of Lending Considerations presented by Mr. Paul Motter Vice President of Bank of America Practice Solutions:
Getting ready for practice ownership means taking a look at how your financial picture is going to impact your ability to get a practice loan.  Dentistry remains one of the lowest risk industries that a bank can consider, but there are certain things that you can do to help make the decision even easier.
Monitor your credit score constantly.  Maintaining a good credit standing will show the bank that you are a reliable borrower to other creditors.  Late payments will hurt your credit score and have a negative impact on your ability to borrow.  Also, if you have a high debt to available credit ratio, your score will tend to be lower than if you maintain a low credit card balance.
Start saving money.  Liquidity is an important consideration for the bank which is seen as a security blanket for any mishaps as you get into practice ownership.  Although 100% financing is available and you won't need to inject any savings into a practice loan, the bank sees less risk in a borrower that is mindful to start building a strong financial statement and assets.  Even when paying down high interest rate student loans, start saving for yourself.  We call it strong financial character.
Build up office production.  Typical borrowers are two to three years out of school when they approach us for practice loans.  That can certainly be less, but hand speed and skills should be built up prior to ownership.  We understand that it might be difficult in an associate job to produce as much as possible because of the lack of high end procedures.  However, the bank will feel more confident in a borrower who has shown the ability to produce and get real world experience before owning a practice.
Summary of Accounting Considerations presented by Mr. Walter Janczewski of the The Abrix Group, LP, Healthcare Management Solutions:
Network and make your contacts now, not in your final semester of school!
I implore you, now is the time to reach out and make contacts, not after graduation when you are seeking your first associateship. Networks exist in many forms; mentors, professional associations, study clubs, and organizations outside of dentistry. Join the local CDS branch where you may have an interest in practicing after you complete your degree, make sure you are a member of ILAGD and look into the ISDS young dentist group. All three of these groups may assist you in meeting potential suitors for when you are ready to enter the world of dentistry.
Take any opportunity to shadow a practice when you are a D-2, D-3, & D-4. A good impression may lead to future employment. Sit in on the various study groups in the Chicagoland area– always a good time to meet up with the practicing dentists out there (and always make sure to carry your business cards!). Review the ISDS source book which lists practicing dentists by name, town, and graduation date/school. This may give you an indication of who may be looking to retire or slow-down in the next few years (graduation date) and thus seeking an associate or a buyer to help them out in the near future.
Talk to dental business specialists in the field such as Paul Motter (Financer for Bank of America Practice Solutions), Todd Erdman (Dental Practice Attorney), and me (The Abrix Group, L.P,- Dental Practice Management Consultants) who have our pulses on who may be in need of a quality young dentist for their practice. Keep in contact with your classmates. Often they are great referrals for practices they have joined and may be looking to grow. Review the areas you feel you may want to practice after graduation and reach out and have lunch or coffee with some of the proprietors and introduce yourself. These dentists have a network of their own and may be able to refer you to one of their colleagues.
Do not wait and put off till tomorrow what you can do today to benefit your future!
Summary of Legal Considerations presented by Mr. Todd L. Erdman, Attorney and President of the Law Office of Todd L. Erdman, P.C.:
Associate Contracts:  Prior to entering into an associate contract, engage a dental specific attorney to review the proposed agreement.   Among the many items to be reviewed, carefully consider the ability of the parties to terminate the agreement, the proposed restrictive covenants and required work schedule.  Dentists should ensure that any production or collection based compensation formulas are clearly defined, and that they articulate what discounts or reductions may be applied by the practice which will result in any reductions of the compensation paid to the dentist.  Finally, consult with an attorney and accountant regarding the advantages and disadvantages of providing dental services as an independent contractor versus an employee.
Dental Practice Startup: Consult with an attorney regarding the formation of a professional corporation, limited liability company or other legal professional entity for the new practice.  If the dentist has an associate contract with an existing or prior employer, the dentist needs to be certain that the location of the new practice does not violate any restrictive covenants of that agreement.   All dentists need to choose between leasing a new space or purchasing a commercial building.  A dental specific real estate agent and attorney should be retained for purposes of negotiating the commercial lease or real estate purchase agreement.  If the dentist elects to lease the office space, among many key business items to be considered and addressed in the lease: the term (usually 7-10 years), options to extend, signage, tenant improvement allowance and the ability to assign the lease.
Practice Purchase:  Consult with an attorney regarding forming a legal entity to purchase the dental practice. All dentists should have the potential practice analyzed by a dental specific lender and accountant to confirm the practice is viable and that the purchase price is reasonable. If the dentist has an associate contract with an existing or prior employer, confirm that the practice location does not violate any restrictive covenants. If the transaction includes the need to assume the existing lease of the selling dentist, that existing lease must be reviewed to ensure it has sufficient time remaining, options to extend, and does not contain any provisions that negatively impact the practice.  The purchase and sale contract should be drafted and negotiated by a dental specific attorney, the agreement should include restrictive covenants for the seller, and the obligations of the buyer should be contingent upon obtaining financing and the review and approval of the practice financial and clinical data.
Paul Motter is a Regional Manager and Vice President for Bank of America Practice Solutions in the Midwest.  He has worked as a commercial lender to dentists since 2006 and has financed hundreds of dental practice acquisitions over that time.  Paul prides himself on helping each client attain their dream of practice ownership and maintaining success over their dental career.
Walter J. Janczewski is a Dental Practice Management Consultant for The Abrix Group, L.P. The Abrix Group, L.P. is a Medical/Dental Practice Management Consulting firm which has been working exclusively with the Medical & Dental fields for over 50 years. Mr. Janczewski, a graduate of DePaul University, is a Licensed Enrolled Agent with the Internal Revenue Service and a Certified Healthcare Management Consultant with the National Certified Healthcare Business Association. Mr. Janczewski is also an affiliate member of the Illinois Academy of General Dentistry.
Todd L. Erdman is an affiliate member of the Academy of General Dentistry, and is the President of the Law Office of Todd L. Erdman, P.C.  Mr. Erdman's firm is focused on addressing the legal needs of dentists and other health care professionals.  Mr. Erdman assists dentists with associate contracts, start-ups, real estate matters and the acquisition and sale of existing dental practices.  Mr. Erdman graduated with honors from Bradley University, and earned his law degree from the DePaul University College of Law.  Mr. Erdman was selected for inclusion in Super Lawyers–Rising Stars Edition in 2014, and regularly speaks regarding legal issues pertaining to dentists.
---
A Message from the New AGD Treasurer
The Illinois AGD is honored to announce that Mohamed Harunani, DDS, MAGD of the Illinois AGD was elected as Treasurer of the Academy of General Dentistry at the 2014 Annual Session House of Delegates in Detroit this past June.  Dr. Harunani first became involved with the IL AGD as the secretary of the Northern Illinois AGD component, and then moved on to become the Chairman of the IL AGD Public Information Committee, and then a member of the IL AGD Board of Directors, as Treasurer, Vice President, and finally President in 2003. From 2006 to 2011, he served on the AGD Board of Trustees, representing Region 8-Illinois.  The Illinois Board of Directors are very proud of Dr. Harunani's accomplishments and wish him the best in his new position as Treasurer of the AGD.
Dr. Cheryl Mora, President IL AGD
Illinois AGD has been a great place of learning and meeting some of the best people for me. I attribute a lot of my beliefs and philosophy to those that taught me and serves with me through my journey of FAGD, MAGD and LLSR. So I want to first start by thanking all of them and YOU for the support and the opportunity to serve as your treasurer.
Dentists have always taken pride in remaining independent and relatively untouched by the sweeping changes in the medical field. However, we now find ourselves in an era of change – practice models are changing, and our profession is faced with pressures from the government, Wall Street, and other professions. In order to face these changes, we must work together to ensure that the quality of patient care remains steady. This will require experience and unity in and within our leadership. I plan to utilize my experience as dentist, business consultant, businessman, investor, and dental director to help steer the AGD through some of the most challenging times that dentistry has faced.
As a member of the AGD investment committee, I saw our reserves grow from 2 million to over 14 million today.  Our reserves grew to $2.5 million in 2013 alone. Our financial success was built on the principle of conserving capital without stifling growth. This balance was programmed into the Investment Policy statement. Now that we have exceeded the 50% mark, some of these restrictions are gone and thus we are seeing expenses creeping upwards. As I begin this next phase in my life or serving as your treasurer and at the same time have a son who is looking at applying to Dental school, I feel that it is of utmost importance to ensure that we ensure that future professionals will have the same benefit that we did. It amazes me to hear the same questions that we did 20 years ago, it is about time we question what we do and how we do it. Let us together see if there is a better way to do things
As we grow, we need the members, the HOD, the BOT and the staff on the same page. This starts with attention to managing the expenses. Even though we expanded our budget and increased our dues by 6% last year, we were unable to fund all requests. My goal is to help streamline our budget and to spend more effectively on the things that affect the most number of members.
Serving on various AGD councils, Board of Trustees and Investment committee has given me a multifaceted view of the AGD and is the basis of my vision of AGD, I call it the VOICE platform, let me explain:
V is for Vision:  We need to expand by providing our new and existing members with support and knowledge base that helps them in their daily lives, like Compliance, Regulation, and Insurance.
O is for Organization:  Several constituents are struggling. National should create programs to support them as a group and their individual members. We have always been and need to stay a grassroots organization.
I is for Input from all stakeholders: We must unite and stand strong to ensure that sound, clinically driven treatment decisions are being made by licensed dentists alone. We need to have dialogue with governmental agencies, insurance companies and other stakeholders to address important issues such as standard of care, student debt, mid-level providers.
C is for Customer service: Who is the customer? Although nationals' ultimate customer is the individual member, the primary customer is the constituents. Training our future leadership and supporting our constituents should be our highest priority. Growth comes from members interacting at the local level.
E is for Excellence & Efficiency: We MUST evolve to remain relevant; we must be driven by data, not feelings, egos or emotion. This will take someone who has courage and time to consider all sides before making tough financial and strategic decisions that will strengthen our organization in the long term.
It is my greatest honor and privilege to be your voice on the Executive committee. You trusted me to help you make money, and now I am asking you to help me to implement our shared vision of a value-based, member-driven, quality organization. Thank you for the opportunity to serve as your treasurer and please feel free to contact me by e-mail at [email protected] or to call/text me at (815) 222-7228 with your thoughts and/or concerns.
Mohamed Harunani, DDS, MAGD
---
The IL AGD CE Advisory
Welcome to the second edition of the IL AGD CE Advisory. This edition highlights all of the continuing education opportunities we are offering our members in 2014-2015. You will be receiving your own copy the 2014-2015 IL AGD CE Advisory in the mail. Please keep this CE book and reference it throughout the year. We hope to see you at many of upcoming courses. For more information about each course go to www.ilagd.org.
Win a trip to AGD 2015 San Francisco by participating in the AGD 2014 Refer a Colleague Program!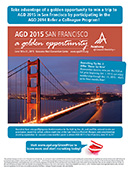 Click here to read the flyer.