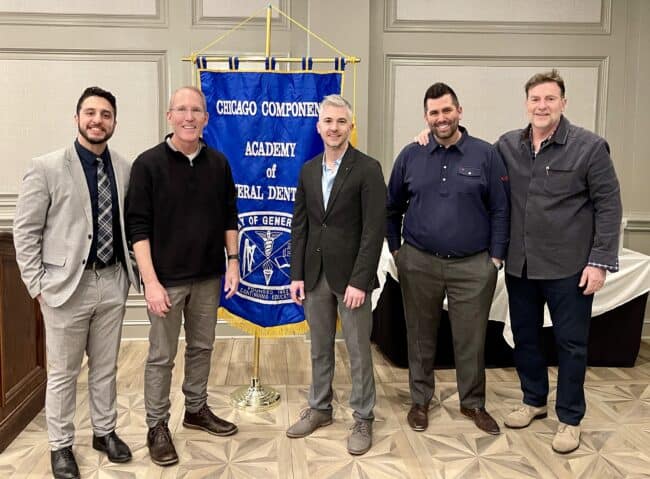 Dr. Alan Dalessandro received his DDS from Loyola University, Chicago in 1979. He completed his residency at Rush Presbyterian in General Practice and Anesthesia and his periodontal fellowship at U of I. For over 35 years, he has practiced periodontics in the Northwest suburbs of Chicago and began placing dental implants in the early 1980s.

Dr. Dalessandro was one of the early adopters of CBCT scanning and uses this successfully in his practice with each implant case. He has also extensively studied lasers and their use in periodontics. Most recently, he has implemented intraoral scanning and 3D printing of implant surgical guides in-house. His teaching experience, on a wide range of topics, goes back to the 1990s. His goal is to pass along knowledge and information to his colleagues to help them become educated on current trends in dentistry. He now teaches groups of periodontists and dentists on a regular basis around the world regarding his topics of expertise, which are the physics of laser technology, and the current research in peri-implantitis.
On Friday, March 04, 2021, in conjunction with the Illinois State Dental Society, the Chicago component of the Academy of General Dentistry hosted a seminar lead by Dr. Alan Dalessandro at Maggiano's in Oak Brook, IL. This lecture detailed what we Chave learned restoratively and surgically over the years regarding dental implants.
The lecture discussed the staggering number of implants in some stage of failure and the importance of observing implant complications early. Causes of failure were reviewed; ranging from implant quality, size, position, placement, and restorations. Dr. Dalessandro presented information on how to maintain implants, how often maintenance is required, and what specific signs point to problems. He discussed maintenance therapy along with surgical therapy of failing implants, both of which included the use of an ER YAG laser. The lecture concluded with an informative Q&A session.
The Chicago AGD is thankful for our sponsors, who generously supported this lecture: First Midwest Bank, which has a specific department for dental loans; Advantage Technologies, providing Hassle-Free IT delivered through simple, secure, stable and supported technology solutions; and Dandy, a full-service digital dental lab that's helping practicesacross the US transition into digital dentistry.
This March lecture was the third of four Chicago AGD seminars for the 2021-2022 season. Please join us for our third seminar in May.
Title: Hot Topics in Periodontics: Periodontal Procedures and How to Enhance Restorative Outcomes
Presenter: Dr. Marmar Modarressi
When: Friday, May 13, 2022 from 8 AM to 3 PM (registration at 7:30 AM) – 7 CE Lecture Credits
Where: Maggiano's in Oakbrook Terrace, IL