Update on Oral Facial Cancer, Oral Medicine,
& Preventing Implant Failures
Presented by John Olsen, DDS, MAGD, DICOI
October 12-13, 2018
Speaker: Dr. John Olsen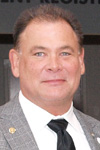 Dr. Olsen was on the faculty of MUSOD in Anatomical Sciences, & was a previous course director for General/Oral Pathology at MATC for over 20 years collectively. He is a general dentist who practises in Franklin, WI. He has been lecturing professionally for many years. Dr.Olsen received his Diplomat status in ICOI in 2011, & is an examiner for the written & oral board exam for the Diplomat honor.
Course Description:
This 2-day multidisciplinary course will teach general dentists how to recognize signs of oral cancer & treatment modalities. Learn specific uses of biopsy & diagnostic tools in oral cancer. A summary of specific oral medications used in dentistry for pain management, to control infection and stimulate growth factors in healing. The practitioner will learn to recognize implant infections & failures. The lecture will focus not only on the ways to avoid failures with present technologies, but also how to treat them.
Course Objectives:
 Day 1.
1. Learn about the features of oral cancer & lumps & bumps
2. Learn how to diagnose benign, premalignant & malignant growths.
3.Learn how to capture diagnostic features for curative treatments.
4. Use diagnostic tools in oral cancer diagnosis.
5. Learn how to do a biopsy & provide information for it's diagnosis.
6. Update your knowledge of common medications used in your dental practice.
7. Learn the efficacies of medicines used in patient management of differnt oral problems.
Day 2.
1. The practitioner will be presented many ways to avoid implant problems.
2. Learn how to use present technology that will enable the student to success in implant dentistry.
3. Learn how to differentiate implant problems from infections.
4. Learn how to treat early & advanced infections associated with implant dentistry.
Supplies to bring:
Gloves, Scopes,Scalpels, scissors, hemostats, tissue forceps,, masks,,amalgam pluggers, sutures (the cheapest you can find), & a brain to fill with knowledge.
Who Should Attend?
These hands-on programs were designed originally for AGD Fellows striving to be AGD Masters. We have discovered that these programs can be valuable to all dentists from new graduates to the most experienced clinicians.
CE Credit:
16 hours of participation credit for those who attend the 2 days of lecture and hands-on. 34 total hours of participation credit to those who attend the 2 days of lecture and hands-on, complete the assigned protocol in their office, and return to document the protocol assignment.
When:
Friday & Saturday, October 12-13, 2018
8:00AM – 12:00PM Lecture and/or Hands on
12:00PM – 1:00PM Lunch
1:00PM – 5:00PM Lecture and/or Hands-on
Program Site:
Midway Education Center
185 Hansen Ct. Suite 110
Wood Dale, IL 60191
800-474-6111
Price:
The total tuition for Premasters for this course, which includes the reporting session is $795.00.  MAGD's receive a $100.00 discount and pay $695.00. Non-AGD member is $895.00. Tuition includes continental breakfast and lunch Friday & Saturday, and a banquet, "The Dr. Daniel Beer Memorial Bash." on Friday evening at 6:00PM. Please indicate on your registration whether you will be attending the banquet. Thank you.
Return your completed registration form with your credit card information or a check payable to Illinois Academy of General Dentistry to: Dr. Sy Wachtenheim or Register online below.
7031 W. Touhy Ave., #306
Niles, IL 60714-4394
or Register & Pay Now
online at www.ilagd.org
---
Lodging:
Courtyard by Marriott Chicago Wood Dale/Itasca
900 N Wood Dale Rd, Wood Dale, IL; 630-766-7775
Reservations must be made by October 1, 2018.
Identify yourself as attending the Illinois AGD program. A special rate of $99.00/night plus tax has been arranged by the Illinois Academy of
General Dentistry.
NEW DENTISTS!!!
Two (2) full Scholarships will be made available at each program to AGD member dentists who have graduated less than 3 years ago!
For more information contact: Dr. Sy Wachtenheim at [email protected] or 847-858-1927 phone or 847-905-7271 fax.
Protocol Reporting Session:
The reporting session for in-office protocols from previous Mastertrack sessions will be held at 5:00 PM on Thursday, October 11, 2018
at Courtyard by Marriott Wood Dale/Itasca, 900 N. Wood Dale Rd, Wood Dale, IL 60101 Please RSVP to Dr. Sy Wachtenheim
by October 1, 2018 to present protocol reports on past Mastertrack Sessions.Acknowledgements: Presenting a program of this nature is a group effort and would not be possible without the assistance of many individuals and/ or companies. A complete list will be available at the course site.
---