The 25th Annual Ted Weclew Memorial Lecture:
Offensive Dentistry
An ILAGD Member Benefit Course
Wednesday, February 21 , 2018
the Day before the CDS Midwinter Meeting
Course Description:
Offensive Dentistry: Let's face it, sitting through a lecture about dental caries or caries risk assessment isn't appealing (in fact it sounds downright boring). However, the science of clinical cariology is beginning to have an impact on restorative techniques and technology. Streptococcus mutans has more to fear than a rheostat, now that we're armed with salivary diagnostics and bioactive materials.
Speaker Biography: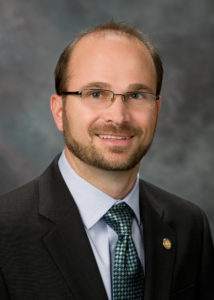 Dr. Brian Novy  is the Director of Practice Improvement at the DentaQuest Institute, and is an adjunct associate professor in the division of General Dentistry at Loma Linda University . He serves on the ADA Council of Scientific Affairs, acts as the chair of the CAMBRA coalition, is a member of the AGD and a clinical evaluator for the Catapult Group. The California Dental Association Foundation presented him with the Dugoni Award for "Outstanding contributions to dental education," and in 2009, the American Dental Association awarded Dr. Nový and his office the title, "Adult Preventive Care Practice of the Year."
 Course Objectives:
At the end of this course, participants should be able to:
• Understand how to intervene medically in the caries process.
• Control patient caries risk with focused therapeutics.
• Design restorations to minimize recurrent decay.
• Improve the prognosis of restorative treatment.
Course Credit:
Approved for 6 hours of AGD Lecture credit.
Location & Time:
American Dental Association Auditorium
211 E. Chicago Avenue
Chicago, IL 60611
The Day before the CDS Midwinter Meeting
Registration: 7:30 am
Lecture: 8:00am-3:00 pm
Continental Breakfast and Lunch will be served.
Seminar Fees:
AGD Dues Paid Dentist   $ 95    $115 at the door
Non-AGD Dentist             $195    $215 at the door
Hygienist                            $75     $95 at the door
Dental Staff                        $75     $95 at the door
Dental Students                $20      $40 at the door
& Residents (Preregistration required)
---
For questions contact:
Maureen Kugel, ILAGD Executive Assistant @ [email protected] or
Dr. Cheryl Mora, ILAGD CE Chair at [email protected] or 847-638-7223 (cell)
AGD dues paid status will be checked as of Feb. 15, 2018. Any Non AGD dentist may choose to apply his entire
registration fee to his first year AGD dues by submitting a completed AGD application on site. Ask for Dr. Cheryl Mora
or Maureen Kugel ([email protected]) for help in completing this process.
---
Acknowledgements:
Presenting a program of this nature is a group effort and would not be possible without the assistance of many
individuals and/ or companies. A complete list will be available at the course site.
---
---