Comprehensive Review of Periodontics & Implantology – Season Pass #3
Summary:
Date: Friday, March 1, 2024
Time: 8am – 4pm (including lunch hour)
Location: Maggiano's Restaurant @ Oak Brook
Speaker: Nikisha Johdan, DDS, Diplomate American Board of Periodontology
CE Credits: 7 CE Lecture Credits
Tuition: (Breakfast and Lunch Included)
AGD Dentist: $150
Non-AGD Dentist: $225
Hygienist or staff (AGD Dentist): $65
Hygienist or staff (Non-AGD Dentist): $85
Student/Resident: $20
All 4 Programs – Season Pass AG members ONLY $500
Speaker's Bio: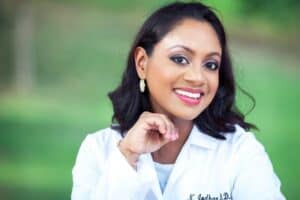 Dr Jodhan has devoted much of her 20-year professional career to building her private practice in Skokie, Il and educating dentists. She specializes in all facets of periodontal therapy-periodontal plastic surgery, dental implants, comprehensive non-surgical and surgical periodontal surgery. Dr. Johdan is a graduate of New York University College of Dentistry where she also obtained her specialty in Periodontics and is a Diplomate of the American Board of Periodontology and holds a faculty appointment as well at University of Illinois College of Dentistry. www.implantperiodoc.com.
Course Objectives:
The collaboration between the Restorative Dentist and the Periodontist is essential in being able to provide comprehensive care for our patients. A multidisciplinary approach is often critical in achieving successful treatment planning and results. This lecture will outline current terms and definitions in the Field of Periodontology and the value of establishing a diagnosis for effective communication amongst clinicians. Additionally, a clinical case series will be utilized in order to demonstrate the indications, contraindications, management, challenges and expected outcomes of typical surgical procedures in Contemporary Periodontology. These include, but are not limited to, crown lengthening, soft tissue grafting, bone grafting and tooth replacement options.
Attendees will learn:
-To review of the current classification of periodontal and peri-implant diseases as of the 2017 consensus.
-To develop a deeper understanding in the diagnosis and treatment of cases which require periodontal surgical intervention
-To visualize the implications of a collaborative approach between the restorative dentist and periodontist in order to provide a high quality of care and improve our patient's overall oral health
Registration
Scroll to the bottom to register for this course only.
Sponsored By:
---
---