Speaker: John C. Flucke, DDS
November 4, 2016 8:00am-4:00pm (Registration at 7:30 am)
Ditka's Restaurant 2 Mid America Plaza, #100, Oakbrook Terrace, IL
Speaker: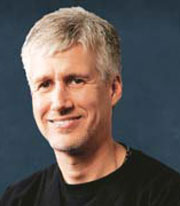 Dr. John Flucke is in private practice in Lee's Summit, Missouri. He serves as Technology Editor for Dental Products Report magazine as well as Chief Dental Editor where he writes, edits, and does video demos of products featured in his "Technology Evangelist' columns.
Dr. Flucke has one of the most popular dental blogs on the Internet,"The Dental Technology Blog," featuring daily updates on technology in health care.
Dr. Flucke uses technology in every aspect of his practice and personal life. He loves testing the latest gear he can get his hands on. He lives his life by the motto "you can't have too many toys". He also consults with manufacturers helping with development of techniques, technologies, and products which allows him to see things from the "duct tape stage" all the way through to the completed item. Dr. Flucke graduated from the University of Missouri – Kansas City with a BA in Psychology as well as his DDS. He is a past president of the Greater Kansas City Dental Society as well as serving as the Missouri State Peer Review Chairman.
Course Description:
In this exciting hands-on course, Dr. Flucke will help you discover how to make endodontics predictable, profitable, and low stress. He will cover topics such as: diagnosis, canal location, instrumentation, irrigants, intra-canal medicaments and obturation. As a general practitioner Dr. Flucke understands the endodontic challenges faced by other "in the trenches" General Practitioners. This course will help you realize how manageable endodontics can truly be.
Course Objectives:
Gain understanding of proper case selection
Learn diagnostic techniques
Discover Isolation tips and tricks
Learn revolutionary instrumentation techniques
Compare irrigation choices and delivery
Discover effective obturation techniques
You can register for this CE course "a la carte" or register for a Season Pass at a savings: http://chicagoagdseasonpass.com