Incorporation of Platelet Rich Fibrin into Implant & Bone Replacement Procedures
Education, Science and Delivery
by Dr. Paul Petrungaro
*Seminar held in conjunction with the ISDS Annual Session
Speaker Bio: Dr. Paul Petrungaro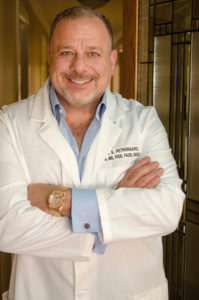 Dr. Petrungaro graduated from Loyola University Dental School in 1986, and completed an independent study of Periodontics at the Welsh National Dental School in Wales, UK. He completed his residency in Periodontics and has a specialty certificate in addition to a Masters of Science degree in Periodontics from Northwestern University Dental School. He is the former Coordinator of Implantology, Graduate Department of Periodontics, has been in private practice of Periodontics and Implantology since 1988, and holds a license in Illinois and Washington.
He is a fellow of the International & American College of Dentists and a Diplomate of the International Congress of Oral Implantologists. Dr. Petrungaro is recognized around the world for his diversified seminars and lectures on advanced periodontal, prosthetic and implant interrelationships, bone regeneration and esthetic tissue formation, the All-on-4® Treatment Concept "surgical protocol", zygomatic "rescue" implants, the treatment of failing implants and the reconstruction of previously failed implant cases, immediate restoration of dental implants and the use of platelet rich plasma in bone grafting throughout the US, Europe, Canada, Australia, South America and Israel. In addition, he has authored numerous articles covering subjects such as cosmetic bone grafting and esthetic implant procedures. Dr. Petrungaro continuously contributes to many new innovations in multiple disciplines of surgical dentistry.
Course Description:
This dynamic course will offer a clinical perspective of the use of Platelet Rich Plasma and Autoglogus Platelet Rich Fibrin use in the surgical discipline of Periodontal, Oral Surgical and Dental Implant Procedures for over a 20+ year time period. The use of platelet rich growth factors in soft tissue grafting procedures, bone grafting and regeneration, single and multiple implant placement (and provisionalization, loading protocols).  Sinus lift procedures and horizontal and vertical ridge augmentations will be demonstrated by multiple clinical case examples. The preparation of A-PRF, I-PRF and PRP will be presented and demonstrated. A hands-on exercise will be completed by the participants.
Course Objectives:
The participants will be able to understand the benefits of using platelet rich fibrin in routine dental surgical procedures:
o To obtain the knowledge and experience in drawing blood from the patient and preparation of A-PRF, I-PRF and PRP
o To have knowledge of growth factors and how they help enhance the healing phase in surgical dentistry
o How to utilize A-PRF, I-PRF and PRP to aid in the delivery of graft materials and to enhance soft tissue healing and maturation while providing an enriched environment for the rapid integration of dental implants
CE Credit:
Total of 7 CE Lecture Credits
When & Where:
8am – 4pm (Registration at 7:30am)
Wednesday, September 5, 2018
Eaglewood Resort & Spa
Itasca, IL
Food Service:
Attendees will be furnished lunch each day.
---