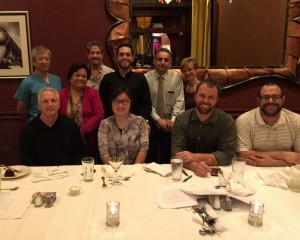 The Chicago Component of the Illinois AGD had their first Board of Directors
meeting for the 2015-2016 Continuing Education season. The board welcomed
two Midwestern University students, Yin Cao D-2 and Andrew Fakhoury D-4.
Both students were recipients of the Chicago AGD scholarship to the AGD
Annual Session in San Francisco in June. Other guests included Dr. Larry
Smith, a new AGD Fellow and Dr. Ryan Vahdani, faculty at Midwestern
University College of Dental Medicine. Topics of discussion included the
recent Chicago AGD CE course on Implants and the upcoming course on November
13 with Dr. Lou Graham on Integrating the Team and Creating Value at
Maggiano's in Oakbrook.
Bottom Row: Dr. William Lawley; Yin Cao-MWU CDM D-2; Dr. Eric Jackson, Dr.
William Kisker
Top Row: Dr. Ray Moy, Dr. Theresa Lao, Dr. Scott Miller, Andrew Fakhoury-MWU
CDM D-4; Dr. Ryan Vahdani, Dr. Cheryl Mora
Missing from the photo: Dr. Robert Kozelka, Dr. Sy Wachtenheim, Dr. Larry
Smith; Dr. Paul Etchison; Dr. Ben Youel                                                                                                                           Missing: Dr. Bill Wax, Dr. Kate Limardi