ILAGD 2021 FAGD & MAGD Recipients Honored:
The FAGD, MAGD awards and LLSR designation are AGD's highest honors. Receiving these awards show your lifelong commitment to exceptional oral care and that you've seized the opportunity to expand your clinical knowledge and enhance how you care for your patients. The Convocation Ceremony and Celebration is AGD's way of acknowledging and rewarding Fellows, Masters and LLSR recipients with an outlet to have a little fun.
2021 FAGD Awardees:
Russell P. Fitton, III, DDS
Yasir Al-Obaidi, DDS
Brittany E. Strawman, DDS
Nicola Toritto, DMD
Surpreet Arora, DDS
Shazeen M. Pardesi, DDS
Dustin A. Wylde, DDS
Aaron R. Rucker, DMD
Ruaa Adham, DMD
Christopher L. Greenwaldt, DMD
Anjum Z. Khan, DDS
Tanner M. Flaherty, DMD
Majd Alsaleh, DDS
 2021 MAGD Awardess:
Alicia D. Franklin, DDS, FAGD
Nicholas A. Kouri, DDS, FAGD
David P. Kumamoto, DDS, FAGD
---
ILAGD Board Member, Judy Fan-Hsu, and her husband, Dr. Lewis Hsu, wrote an article for the ADA CE Online.  The article, "Evidence-based dental management in the new era of sickle cell disease" can be read by clicking on the link: Hsu and Fan-Hsu Original ContributionsEvidence-based dental management in thenew era of sickle cell disease – scoping review JADA 2020 (1)
---
ILAGD Board Member, Judy Fan-Hsu, has an article in the latest Chicago Dental Society Review. "Healthier Smiles Grants help CDS members make a difference", read the full article below.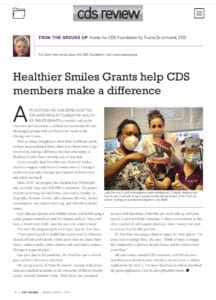 ---
Two ILAGD Leaders Inducted into Pierre Fauchard Academy
ILAGD Treasurer, Dr. Rosemary Villa, and board member Dr. Jessica Gibbs were were among 18 honored with induction into the Pierre Fauchard Academy during a virtual ceremony on March 4, 2021.
The Pierre Fauchard Academy is an honor organization devoted to the recognition and development of leaders in dental medicine across the globe.
Conducting the new fellow induction ceremony was ILAGD board member, Dr. Paul Obrock, who heads the Illinois Section of PFA, along with Dr. Terry Brewick, International President PFA, and Dr. Ghabi Kaspo, Region 8 Trustee.
This event is normally held in conjunction with the Chicago Midwinter Meeting at a lively reception at Maggiano's downtown.
While it was disappointing not to be able to meet at a reception and have a more fitting ceremony, on the bright side, a virtual ceremony allowed for the unique opportunity for 9 International Officers and Trustees to be present. Dignitaries attending were from all over the U.S. and as far away as the Philippines.
Congratulations to Dr. Villa and Dr. Gibbs on receiving this honor!!
---
ILAGD 2020 FAGD & LLSR Recipients Honored:
G.V. Black, the father of modern restorative dentistry said, "The professional person has no right to be other than a continuous student." This philosophy has been the driving force for the Academy of General Dentistry (AGD) for more than 60 years and continues to guide those looking to the future of the AGD and the dental community.
The AGD Fellowship and Mastership awards are among the most prestigious for general dentists. They represent a commitment to lifelong learning, quality patient care and professional responsibility. By earning this prestigious award, you have joined 6,450 FAGD awardees, 2,303 MAGD awardees, and 317 LLSR recipients, who have also embraced the most elemental beliefs of the AGD and helped promote this belief to the profession and public.
2020 Fellows
Jennifer L. Mullarkey, DMD
Victor K. Lau, DDS
Joseph Y. Akhikar, DMD
Jessica L. Gibbs, DDS
John M. Neely, DMD
Daniel T. Streitz, Jr., DMD
Garnet L. Patterson, DDS
David R. Turok, DDS
Vlad Ferdkoff, DDS
William B. Hamel, III, DDS
Sweta J. Shah, DDS
Angela L. Tenholder, DMD
2020 Masters
Robert J. Blumenthal, DMD, FAGD
Agnes Knobloch, DMD, FAGD
Ryan R. Vahdani, DDS, FAGD
Venu Maturi, DDS, FAGD, MS
Bilus D. Poles, DDS, FAGD
Brenden D. Moon, DMD, FAGD
Alicia D. Franklin, DDS, FAGD
2020 LLSR
Paul E. Obrock, DMD, MAGD
Bruce A. Norkus, DDS, MAGD
Dawn L. Silfies, DMD, MAGD
---
Chicago Midwinter Meeting 20 February 2020
Five members of the board of the Illinois AGD, along with another three AGD members, were among the thirteen inducted into the Illinois Section of the Pierre Fauchard Academy at the 2020 Chicago Midwinter Meeting!
The Pierre Fauchard Academy is an honor organization devoted to the recognition of, and development of, leaders in dental medicine across the globe.
Conducting the New Fellow Induction ceremony were:
Dr. Terry Brewick, International President PFA
Dr. Jerry Dushkin, International President-Elect PFA
Dr. Ghabi Kaspo, Region 8 Trustee PFA
Dr. Paul Obrock, Illinois Section Chair, Master of Ceremonies, ILAGD Board
Welcomed as New Fellows of the PFA were the following AGD members, and any respective offices:
Dr. Bethel Buerk, ILAGD Secretary
Dr. William Lawley, ILAGD Vice-President
Dr. Charles Martello, ILAGD Immed. Past President
Dr. Cheryl Mora, ILAGD Past President, current Regional Director
Dr. Sy Wachtenheim, ILAGD Past President, 2010 Recipient of the AGD Distinguished Service Award
Dr. Darryll Beard
Dr. John Keller, IV
Dr. Sable Muntean
The event was held at Maggiano's Little Italy just off Chicago's 'Magnificent Mile'. A lively reception accompanied the ceremony where the new fellows joined existing members in food, drink and camaraderie.
---
ILAGD 2019 FAGD & LLSR Recipients Honored:
The AGD Fellowship and Mastership are prestigious symbols of dentistry's continuous journey toward improvement and progress. Fellows and Masters embody AGD's principles and ideals and accept an obligation to prove themselves worthy of their designations throughout their professional lives. To earn Fellowship, dentists must earn a minimum of 500 approved CE credits, and pass a comprehensive examination. To attain Mastership, AGD Fellows must earn an additional 600 approved CE credits, and 400 of the credits must be in the form of participation courses. In the AGD's 60-plus history, 16,800 members have earned Fellowship and 3,434 members have earned Mastership. This year, 277 members received their Fellowship and 69 members received their Mastership at the AGD annual Convocation ceremony. The Fellows and Masters honored at this year's Convocation ceremony represent a commitment to lifelong learning and support the AGD's mission to "serve the needs and represent the interests of general dentists and to foster their continued proficiency through quality continuing dental education in order to better serve the public."
2019 Fellows
Glenn Amante, DDS
Steve Ballis, DDS
Sam Calabrese, DDS
Michael Cheng, DDS
Ahmed El-Maghraby, DMD
Meredith Gantos, DDS
Kurian Mathew, DDS
Ryan McCall, DDS
Peter Pirog, DMD
Anjali Talwar, DDS
Ivan Valcarenghi, DDS
2019 LLSR
Mohamednazir Harunani, MAGD – 2nd LLSR
Cheryl Mora, DDS, MAGD
---
2018 Fellows~
Phillip C. Neal, DDS, FAGD
Mitul V. Patel, DMD, FAGD
Kenneth J. Allen, DMD, FAGD
Irbad Chowdhury, DMD, FAGD
Kalpana T. Shah, DMD, FAGD
Vishal V. Kalavadia, DDS, FAGD
Yudong Xu, DMD, FAGD
Thomas J. Skleba, DDS, FAGD
Basim Said Shakir, DDS, FAGD
Sanaz Amiran, DDS, FAGD
William P. Madison, DDS, FAGD
Lana Fourdyce Kavetsis, DDS, FAGD
Giancarlo A. Maldonado, DDS, FAGD
Joseph D. Jackson, DMD ,FAGD
John McNerney, DDS, FAGD
Yasmin Kanani, DDS, FAGD
Miloslava M. Miller, DDS, FAGD
Zac Young, DDS, FAGD
Liya Mathew Kunnassery, DDS, FAGD
2018 Masters-
Wallace F. Strow, Jr., DDS, MAGD
Richard J. Wright, DDS, MAGD
---

50 Years
Marshall M. Dolnick, DDS
40 Years                                                    
John S. Aiello, DDS, FAGD                  Raymond D. Bartz, DDS                     Virgil A. Beadle Jr., DDS, FAGD
William J. Becker, DDS                       Tim L. Butler, DDS, MAGD                  Timothy C. Canty, DDS, MAGD
Terrence J. Danek, DDS, FAGD           William G. Dobrin, DDS                      Stuart M. Dunn, DDS
Barry K. Freydberg, DDS, FAGD          Lawrence R. Gentile, DDS, FAGD       Douglas R. Halkyard, DDS
James W. Henning, DDS, FAGD           Lewis J. Hirsch, DDS                         Paul W. Jacobs, DDS, MAGD
Robert J. Krenz, DDS                           Thomas R. Leischner, DDS                Robert A. Lipschultz, DDS
Gene E. Mendelson, DDS                     Jack J. Miller, DDS, FAGD                 Todd A. Molis, DDS