Dental Materials: The Full Clinical Review
Presented by Dr. Sam Halabo
November 10-11, 2017
Speaker: Dr. Sam Halabo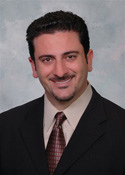 Dr. Sam Halabo is an accomplished national and international speaker, author and product evaluator. For over 20 years he has run a state-of-the-art private practice in San Diego, CA. He is a graduate of Boston University Goldman School of Graduate Dentistry and he completed a general practice residency at the Loma Linda Veterans Hospital. He is an adjunct faculty at UCSD. He served as Director of Dental Care at UCSD clinic in Pacific Beach, CA. He has been involved in product evaluations for many years and is honored to share his experience with those seeking to
provide excellent care for their patients.
Course Description:
Modern Dentistry is ever changing with the constant introduction of new materials and techniques. This 2-day course will provide a strong foundation for the practicing dentist, as well
as update their knowledge in current and successful materials. The presentations are designed as clinical updates, offering clinical success with composites, adhesives, ceramics, cements, and numerous other materials. Each day will feature a hands-on portion to allow practitioners to use the very materials discussed, in detail. This fast paced course will improve your practice
and selection of dental materials, and is designed to provide the information that can be used the following day in your office.
Course Objectives:
1. Apply and use direct restorative options for conservative smile restorations.
2. Incorporate appropriate adhesive and cementation protocols specific to a restorative material and indication.
3. Understand concepts, guidelines, and techniques for tooth preparation for high strength all ceramic restorations.
4. Simplify tissue management for ideal impressions.
5. Use shade selection to obtain ideal results for the restoration.
6. Learn a fast and simple temporization technique.
7. Increase the cosmetic aspect of your practice with simple techniques and ideas.
8. Understand the options available for scanning and milling.
9. Use predictable tooth whitening techniques.
10. Plus a whole lot more.
Who Should Attend?
These hands-on programs were designed originally for AGD Fellows striving to be AGD Masters. We have discovered that these programs can be valuable to all dentists from new graduates to the most experienced clinicians.
CE Credit:
16 hours of participation credit for those who attend the 2 days of lecture and hands-on. 34 total hours of participation credit to those who attend the 2 days of lecture and hands-on, complete the assigned protocol in their office, and return to document the protocol assignment.
When:
Friday & Saturday, November 10-11, 2017
8:00AM – 12:00PM Lecture and/or Hands on
12:00PM – 1:00PM Lunch
1:00PM – 5:00PM Lecture and/or Hands-on
Program Site:
Henry Schein Dental
501 W. Lake Street, Suite 108
Elmhurst, IL 60126
630-516-3490
Price:
The total tuition for Premasters for this course, which includes the reporting session is $695.00.  MAGD's receive a $100.00 discount and pay $595.00. Non-AGD member is $795.00. Tuition includes continental breakfast and lunch Friday & Saturday, and a banquet, "The Dr. Barry Karlov Memorial Bash." on Friday evening at 6:00PM. Please indicate on your registration whether you will be attending the banquet. Thank you.
Return your completed registration form with your credit card information or a check payable to Illinois Academy of General Dentistry to: Dr. Sy Wachtenheim or Register online below.
7031 W. Touhy Ave., #306
Niles, IL 60714-4394
or Register & Pay Now
online at www.ilagd.org
---
Lodging:
Springhill Suites Elmhurst, 410 West Lake Street, Elmhurst, IL 60126 630-782-6300
Reservations must be made by October 26, 2017. Identify yourself as attending the Illinois AGD program. A special rate of $102.00/night plus tax has been arranged by the Illinois Academy of General Dentistry.
---
NEW DENTISTS!!!
Two (2) full Scholarships will be made available at each program to AGD member dentists who have graduated less than 3 years ago!
For more information contact: Dr. Sy Wachtenheim at [email protected] or 847-858-1927 phone or 847-905-7271 fax.
---